Part of the problem is that many modern cleats use synthetic materials that don't give as much as a leather boot. The Synthetic uppers may boast that they don't need any "breaking-in," but if you have wide feet, materials that stretch and mold to your feet are critical. Some of the best cleats for wide feet are those made from leather and particularly kangaroo leather.
Take a look at our top 6 picks for the Best Soccer Cleats for Wide Feet in detail so you can decide which one of them is the best wide soccer cleat, and which is best for you.
Looking for indoor soccer shoes? Check out this buyer's guide: Best Wide Indoor Soccer Shoes.
What are The Best Soccer Cleats for Wide Feet? Quick comparison.
---
Adidas Copa Mundial FG – your dad's favorite football boots. A classic pair of soccer boots with an insanely soft, flexible, and most importantly – a very accommodating kangaroo leather top. Perfect for people with a wide feet. Seriously with Adidas Copa Mundial, I dare you to go down a full size and I promise you they will still fit perfectly. I buy them smaller so they will mold better to my feet.
When it comes to the ball touch the Adidas Copa Mundial is precisely what you would expect from such a no-nonsense leather cleat. It is elegant, it is soft and it is plushy.
They top our list because they continue to be top sellers even without flashy colors or features of new soccer shoe designs. They don't have fancy soleplates. If there is a negative with these iconic cleats it might be that there is a little lack of stability when you're moving sideways on the pitch. But you can't go wrong with the Adidas Copa Mundial soccer cleats.
Read the full Adidas Copa Mundial Review.
Pros:
Netfit lacing Technology allows for an individual fit and feel
Short Break in time
Comfortable and feels natural out of the box
Cons:
Limited spots to run the lacing system through
A bit rigid upper material
---
At number 2 is The Puma King Platinum FG/AG Men's Soccer Cleats. Ever since the launch of the original Puma King, the family has always been spacious. This shoe is very similar to the Adidas Copa as a cult classic. Once you wear a pair of Kings you rarely want to wear anything else.
This is an evolution of the original version. The kangaroo leather upper material of this boot falls in line with the original and will accommodate the widest foot in existence. This version also boasts Puma's 3D 'touch' texture to give you better control.
The King Platinum is their lightest King ever blending the icon football boot with modern style, creating a cleat that spans generations. This isn't just your dad's favorite soccer cleat anymore!
If you choose this shoe I can assure you that your foot will feel sensational.
Pros:
Accufoam improves ball control
Extra Wide soccer cleats!
Easy and fast break-in
Cons:
A little loose in the ankle collar
---
Number 3 goes to the New Balance Men's 442 Firm Ground V1 Soccer Shoe. This replaces our previous recommendation the Puma Evotouch Pro FG Cleat.
New Balance is one of the few companies that offer cleats for wider feet. These boots have a leather upper. New Balance has also found a formula where old meets new, creating a shoe that combines player touch with the durability of a classic shoe. With a newly designed rubber sole and cylindrical spikes, the 442 FG V1 is perfect for firm ground surfaces. The full-grain leather upper is great for wide feet because it will stretch a form to the width of your foot.
Do you see a trend here? Most of the best cleats for wide feet are made with genuine leather instead of synthetic material because of their elasticity and ability to stretch to fit a wide foot.
As with other leather shoes, they will require a break-in period, but afterward, oh how good they will feel. Your feet will thank you.
Do you want flashy colors? The 442 FG V1 has some modern flash as well. They come in a variety of colors including blue, red, white black, and my favorite color… GREEN!
Pros:
Sturdy construction
A classic leather upper with a modern rubber sole
New Balance makes cleats specifically for wider feet
Cons:
There is a break-in period
It May seem heavier than other modern shoes
---
4th on the list is New Balance Tekela V3 Magi FG. This is our first synthetic upper cleat on the list. It is made by New Balance, so it also comes in a wide-fit version. This replaces our previous recommendation, the Adidas X16 + PureChaos FG.
New Balance incorporated two of its great technologies. The Kinetic Stitch and Integrated Hypoknit in the upper give the shoe a great combination of support, stretch, and flexibility. This makes them ideal for soccer players that have wide feet but don't want to skimp on modern technology and style. 
The upper has a TPU film that provides superior touch and stability. The TPU plate with conical studs offers excellent traction for matches on firm ground. It also has a molded removable insert that will make your feet comfortable even during the longest games.
Also, I really have to mention the sock. Which in my opinion is of the perfect height and I do prefer it over the higher model on the Obra 2 for example. Long story short Tekela V3 Magi is a wonderful choice for anybody with a wide foot, and I would play a game in these cleats any day.
Pros:
Two-piece plate system
Laceless
The synthetic upper is both flexible and supportive
Cons:
Snug fit through the midfoot and ankle
---
Number 5 on the list is the adidas Copa Sense.3 FG soccer cleats. This is a more modern updated version of the traditional Copa Mundial. It is called the "Sense" because it gives a better feeling and touch on the ball.
This boot features a lace slip-on design giving you the feel of a laceless cleat with the extra security of laces. The stretchy collar makes sure that the shoe stays snuggly on the foot and doesn't slip, but opens wide for easy entry. They are not high-ankle sock shoes, but the collar gives you a bit of a sock-like feel when you wear them. The soft leather forefoot offers extra comfort for players with wide feet. It forms to your foot and stretches where needed. This means the toe box has extra space and is truly an accommodating soccer boot for wide feet.
Another great part about the shoe is the seamless upper. This means it molds to the shape of your foot and with no seams, there are fewer points where the shoe could fail, creating a more durable shoe and comfortable cleat.
The Copa Sense has a TPU outsole that cups around the heel. This creates a more stable shoe with great traction on firm ground. You shouldn't feel as much wobble when cutting and turning as with other cleats.
If you're not into the classic design of the Copa Mundial, but you are an adidas fan and love the feel and touch you get from leather. The Copa Sens.3 might be the cleat for you. It comes with a super-soft leather top which will stretch a lot. If you give it some time and love on the football pitch. There is also a variety of modern colors and a unisex design. The Copa sens.3 is the latest generation of Copa's ready for the next generation of players who need soccer cleats for wide feet, and it just deserves to be here.
Pros:
Soft leather upper increases the sensitivity and touch on the ball

Dynamic fit collar
Spacious toe box
Cons:
Some players have complained that it is sometimes tough to pull the shoe on because the collar is not stretchy enough
6. Puma Future 18.1 Netfit
---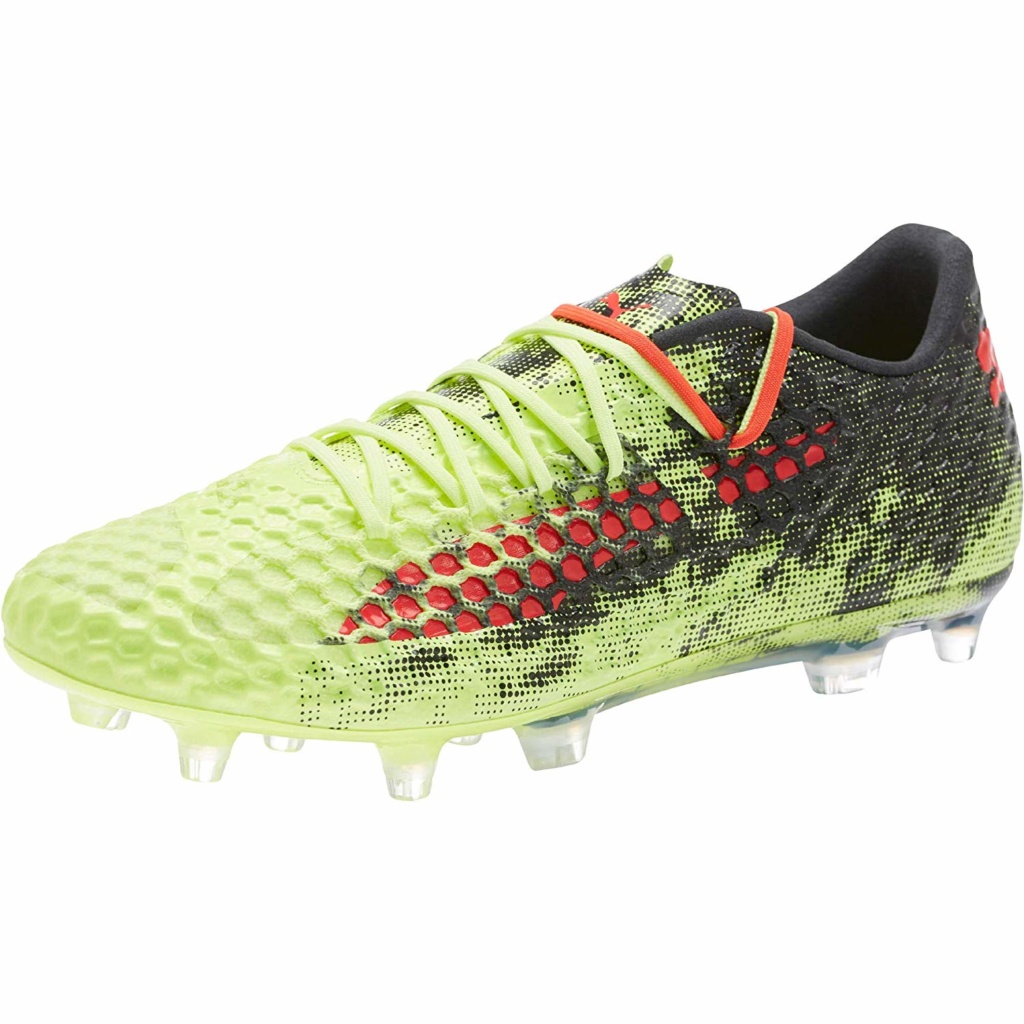 Puma Future 18.1 Netfit – The new number 6 in our list for wide-footed players. This time Puma really steps the game up with their new lacing system that basically allows them to create an individual fit and feel for every foot type. Netfit system accommodates wide feet, narrow feet, increases striking zone, or creates a better lockdown.
The initial break-in is short and these boots are very comfortable just out of the box. The strike zone is also covered with Netfit, which, similarly to Predator cleats, increases surface area and allows you to strike the ball solidly.
There are 2 versions of Future 18.1 – High and Low. For wide-footed players, I would recommend choosing the Low version. The low version comes with a separate tongue that allows us to completely open up the boot.
Full Puma Future 18.1 review here.
Pros:
Very accommodating kangaroo leather upper
Fits even the widest foot
And this concludes my Top 6 list of best cleats for wide feet.
How to Check if I Have a Wide Foot?
Everyone's feet are shaped differently. It is probably one of the most varied body parts that we have. So it's really up to you to figure out what shape your foot actually is. The fastest way to know if you have wide feet is to ask yourself a question – Do you regularly have trouble fitting into shoes? Not just soccer shoes but regular shoes in general. If you're buying shoes and you fit into them perfectly every single time. You do not have wide feet. If you find yourself not fitting into regular shoes. Driving to specialty shoe stores to buy double or triple pairs of wide shoes then that's generally a good sign that you actually do have wide feet.
Widest Foot Point?
One other thing to take note of is where is your foot at its widest point? A wide mid-foot generally restricts what shoes are you going to fit in more than, for example, a wide heel will. A wide heel doesn't mean all that much but if you have a really wide mid-foot or a really wide forefoot that changes up your options as far as soccer cleats go.
Flat-footed?
Another thing to take note of is, are you flat-footed? If you do have a flat foot, generally you are going to have a little bit wider feet. Personally, I would say a semi-flat foot or slightly flat-footed but not too broad. And other than that, go with regular foot size.
Proper Soccer Cleat Size?
One of the major things when it comes to getting the proper size out of your soccer shoe or determining whether or not you have a wide foot is – a lot of people don't actually realize what size they need and how their soccer shoes should fit. I've made a separate guide on this here. Really go check it out if you don't know how your soccer shoes should fit.
A lot of people are wearing their shoes way too big, and that's why they're not able to get a good fit from their shoes. One major rule that you need to live by when you're buying soccer shoes is – Don't force your foot into a shoe that doesn't have the right size or shape.
Want to make sure you buy the right shin guards? Then check out our article:
How Should Soccer Shin Guards Fit?
It's very important to buy soccer cleats that suit you properly if you're for example a size 9 us and pretty much every cleat you try fits perfectly in the length, but it's too narrow for you. You should absolutely not go half a size up and just say – "okay now the width is okay but the cleats little bit too long." That's not acceptable. If you don't fit in your regular size, you should never size up with a soccer shoe. Instead, pick a different model that fits you properly in your proper shoe size.
Guide to Buying Soccer Shoes for Wide Feet
Only buy from trusted online merchants or web stores
A lot of online stores are available. While some are legitimate, others may scam you for the money or provide you with fake soccer cleats. You should also be wary of the source.
Consider the return policies of available online stores
Sometimes the soccer cleats you buy online may not fit properly. Consider if the online store you are intending to buy from has reliable return policies or if they can replace the soccer cleats. A good online store features a reliable policy on returns. When they lack the return policy, try somewhere else to prevent losses if the shoe does not fit well or is damaged.
Compare the prices
Some of the available stores online may overprice the cleats, there could be others selling the same cleats at a cheaper price. In both cases, it is wise to compare the prices prior to purchase. Additionally, you have to be wary of those that are too appealing to prove true. They could either be fake or poor-quality soccer cleats.
Ensure you safely store the receipts in case something goes amiss
The original receipt will be needed if you are not satisfied with the purchase. keeping receipts has to be done to avoid negative situations and possible losses.
Examine the customer reviews of the store
Reading some of the feedback from other customers allows you to make sure that you purchase top-quality soccer cleats for broad feet. This proves also the seller offers legitimate products.
Selecting Wide Cleats According to Design
Though there are soccer cleats for the precise foot size, things you control include the collars, laces, and color of soccer cleats. These factors are crucial if you have a thing for aesthetics and also if you desire to match the cleats to your team's uniform.
Keep in mind the way you want your cleats to look is up to you and your preference. A lot of brands provide cleats that are color-customizable, allowing you to embrace personal creativity. There are many designs you can choose from.
The collars offer protection of the ankle and snugly fit your feet however it depends on you if you need them.
The lace is an element that is most customizable in the shoe since it ensures the shoes are intact and snug. Also, it adds to the element of art.
What to Consider When Selecting Soccer Shoes for Wide Feet
Many cleat types assist in your style of playing, therefore it is crucial to know the way you play prior to purchasing a pair. Additionally, the kind of pitch that you will be playing on is vital as well since some of the cleats offer better performance on certain pitches. For example, natural grass or turf.
It is a challenge for players with wide feet to get the right cleat that suits them well, that is why you will find various products available in the market specifically made for such players. Be careful not all of them are good.
Moreover, the player's soccer boots should have the upper material made of leather to allow elasticity. These soccer shoes tend to be comfy and fit the user perfectly because they expand to fit the shape of the foot. It is true that wearing the wrong size will impact your performance especially if they are too tight.
The stud's quality is also crucial since the material's performance differs when using the boots on hard or soft surfaces. Getting a precise soccer cleat is vital to avoid injury while playing. You might think selecting wide cleats is a difficult experience, but in this section, you will get the necessary information to buy with confidence.
How to Select Soccer Boot Size Online
Purchasing various cleats from multiple brands may prove tricky. Brands and manufacturers have different models and their sizes may differ from other brands sizing. The wrong size of shoes will impact your performance which is crucial in this sport. When purchasing online ensure you conduct broad research prior to buying since the size could be different from what you expected.
Amazon offers a great program called "Prime Try It Before you Buy." This program gives you the opportunity to actually try the shoes on and if they don't fit, you can send them back to exchange them for the right size.
Also, examine the size reviews and the return policies to get to know what you can expect from the experience.
Most Suitable Materials that Mold to Your Feet
The top section of normal soccer cleats consists of synthetic material or leather. But for players with wide feet, the upper kangaroo leather is a better recommendation since they mold to the feet, enabling the shoe to be comfortable and maximizing how you play.
You have to consider the importance of comfortable shoes on your feet. They have to fit snugly on your feet to avoid injuries.
What Soccer Cleats Types are for Wide Feet?
The soccer cleats feature multiple styles made for different field positions. Keeping in mind, you will find out there are soccer cleats available in the market which caters to broad feet needs. The soccer cleats could be low-cut, mid-cut, or high-top:
The low-cut: are majorly used by players in search of light materials. The low-cuts allow the player to run while on the field.
Mid-cuts: are suited for wingers, defensive backs, and right backs because they feature support and maneuverability.
High-tops: are suited for the forwards because of their ankle extension, which offers support in lateral movements.
There are broad cleats for a specific pitch like the detachable and the molded.
The detachable cleats feature high versatility because they are interchangeable meaning you can use them on any type of pitch. Since studs allow replacing, you can modify the cleats to suit the pitch you are intending to use. However, detachable cleats tend to be more costly than molded cleats.
Molded soccer cleats are mostly used on turf pitches and hard grass surfaces because they offer better traction. They additionally feature a harder grip since they are permanently fixed to your shoe outsole.
How to Maintain Wide Soccer Cleats
The usual stress when playing soccer is broken gear. The soccer cleat for broad feet, irrespective of how expensive it is, is prone to get damaged. The only thing that you can do is increase their lifespan by maintaining them and keeping them in great shape. By doing this, you optimize their effectiveness. The following are some of the maintenance tips;
The surface of the playing field will be a factor to consider. Using the cleats on the intended surface improves the durability of the cleats. Using the cleats intended for the soft ground on surfaces that are hard will affect the product's performance and longevity. Therefore, wearing shoes based on the surface is crucial.
Loosening the laces is beneficial to the cleat and you. Loosening laces on the second last eyelet and tightening on the last will prevent strain on the foot. This practice will also minimize the forefoot stress making the boot fit well on you. Also, when wearing the soccer cleats for the first time, ensure you loosen all the laces to the bottom eyelet and later tighten the shoe once you firm insert your foot. This allows the shoe to shape well around the mid-foot making the cleats wear like a glove.
Ensure you use cleats that are similar to the shape of the foot. For broad feet, purchase leather cleats since they mold to your foot. This reduces pressure because the material stretches and offers comfort. Synthetic tops are recommended for narrow feet.
Have multiple pairs of shoes. Although owning several cleats may be expensive, it will be beneficial since you reduce the possibility of cleat overuse and ensures you will have the proper cleat for the proper playing surface.
Stud replacement is also a crucial element in cleat maintenance. This is only possible in the detachable studs. Replacing the studs when they become uneven or loose is a way of avoiding any injuries.
Break in the cleats. Do exercises with new cleats prior to an official match. This is important in the purchase of the new cleats. Practice with them to break them in. This will limit the chance of damaging the shoe. Plus their original tightness will be relieved and offer a more comfortable feel at game time.
Also, ensure that you properly wash them with the right washing procedure and allow them to air dry prior to using them again. To clean the cleats, start with taking away the in-sole and then the laces. You can wash both of them separately using water and soap. Allow drying before using them.
To clean the uppers, mix cool water with hand soap or dish using a soft brush scrub your cleats with soapy water. Then wipe off soap residue using a wet cloth prior to cleaning the bottoms. Avoid submerging your cleats in the water this will damage the leather and might make the cleats crack once they dry.
As you pack your soccer bag, include a putty knife or a popsicle stick. You can use these to help with your cleat's cleanliness in the game or while practicing. On muddy days, caked-on mud will hinder performance and traction. Removing it with a putty knife or popsicle will help with performance. A towel or toothbrush is also helpful.
Only wear your cleats when you get to the field. Walking to the field on hard surfaces may create unnecessary wear and tear. Wear another pair to the field and keep the soccer cleats in the soccer bag.
Never use the dryer to dry your cleats.
Which Football Boots are Best for Wide Feet?
Hopefully, the information you have found here has been helpful. Our all-time favorite soccer shoe for wide feet is.
The classic Adidas Copa Mundial FG. It is a timeless kangaroo leather cleat that molds to fit your foot. The Puma Future 18.1 Netfit and Puma evoPOWER Vigor 1 are runners-up.
If you are unsure you really need to determine for yourself whether or not you have wide feet. It's not a question that I can answer for you and like I said go ahead and check out our guide.
Figure out how your shoe should feel. Because a lot of people are wearing their shoes way too big and that's just not right.
It kind of defeats the purpose of buying high-end cleats because you're paying more for better-fitting soccer shoes. So, if soccer cleats are not fitting perfectly, you're not getting the right size, and you are not getting your money's worth.
And if you already know that your feet are wide, go up and pick one of our TOP 6 wide-fitting soccer cleats.